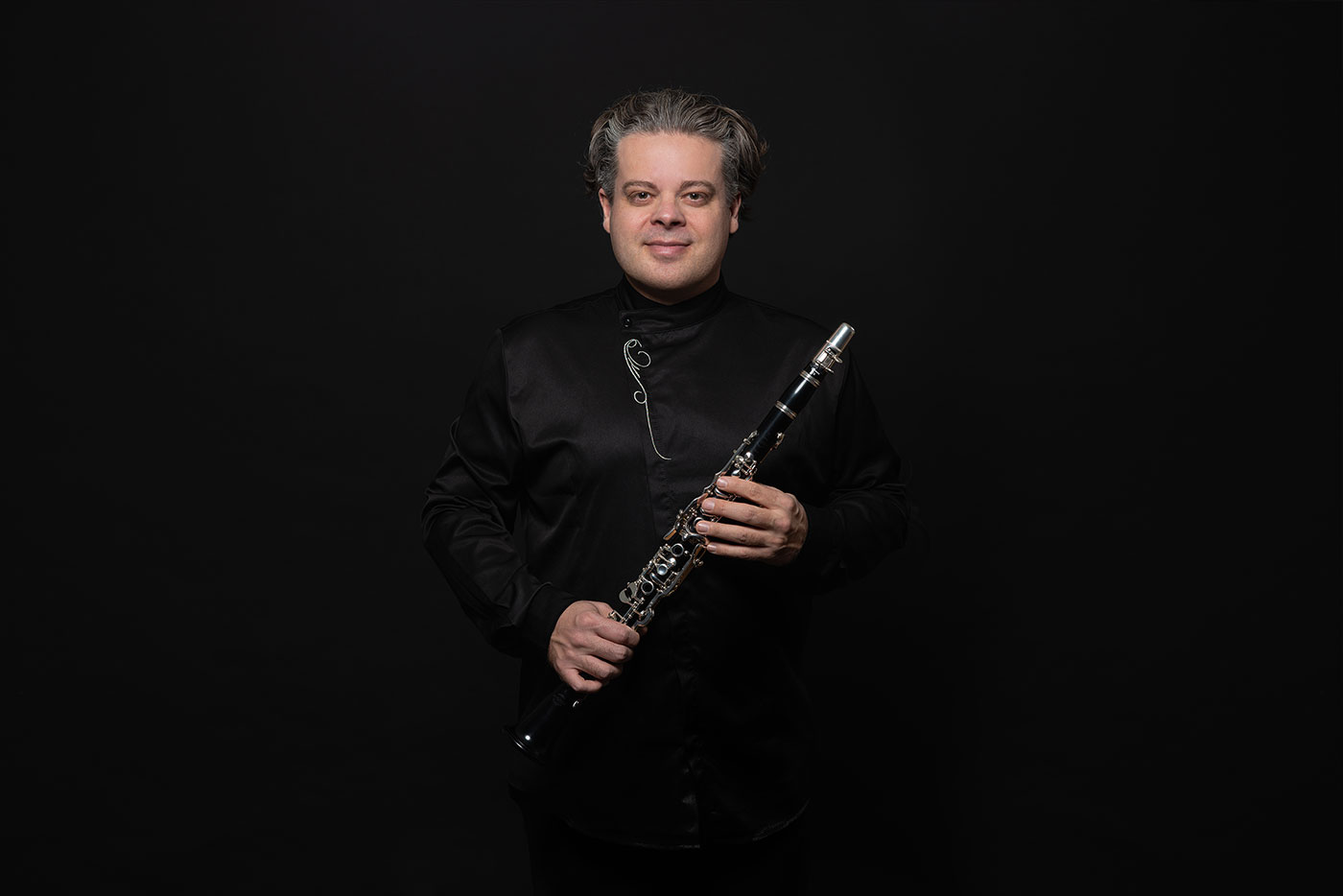 Photo ©️damianpossephotography
Many famous conductors began their musical careers as instrumentalists. This gives them the advantage of knowing exactly what an orchestral musician expects of a conductor.
It was the conductor Guiseppe Sinopoli, who sadly died much too young, who encouraged Pierre Pichler in his desire to conduct as well. The famous Italian maestro led the International Orchestral Institute of the Vienna Philharmonic, which performed in the Great Hall of the Vienna Musikverein, when he suggested to the still-teenaged solo clarinetist during rehearsals for Brahms's Fourth Symphony that he consider studying the art of orchestral conducting due to his exceptional musical talent and charisma. Sinopoli could hardly have known that this was Pichler's very goal.
Although Pierre Pichler already knew very well as a child that he wanted to become a conductor, he was initially so thrilled by his grandfather's activities as a clarinetist and kapellmeister that he wanted him to teach him to play the clarinet already at age eight. He turned out to be gifted enough not only to go on to win all pertinent competitions, but also to be admitted to the solo clarinet class of the solo clarinetist of the Vienna Philharmonic, Peter Schmidl, at the University of Music and Performing Arts Vienna, at the age of only fifteen. Barely two years later, Pichler was already called upon to play in the orchestra of the Vienna State Opera, with such success that, in addition to many opera performances, he soon performed innumerable concerts and tours with the Vienna Philharmonic (including Japan, USA and South America). At age nineteen, he was invited to participate in the Pacific Music Festival, founded by Leonard Bernstein. It thus became possible for him to observe the great art of conducting up close early on, from performing under the baton of the top maestros (Sir Simon Rattle, Seiji Ozawa, Zubin Mehta, Mariss Jansons, Riccardo Muti, Nikolaus Harnoncourt, Pierre Boulez, Christian Thielemann, Giuseppe Sinopoli, Lorin Maazel and Christoph Eschenbach).
Nonetheless, he remained true to his primary instrument and completed his studies at the University of Music and Performing Arts Vienna with unanimous distinction. In addition to his performances as soloist and chamber musician (CD recording The Art of the Clarinet with Peter Schmidl on Naxos), he was regularly invited to perform as soloist with all the Viennese orchestras and numerous major international ensembles (Malaysian Philharmonic Orchestra, Mahler Chamber Orchestra, Staatskapelle Dresden, Frankfurt Radio Symphony). Pichler was employed as solo clarinetist at the Graz Opera.
Upon the suggestion of the renowned clarinetist Alfred Prinz, he also performed as soloist at Ohio State University in Columbus and Indiana University in Bloomington. In the Malaysian Orchestra, where he was solo clarinetist from 2013 to 2015, his playing was viewed as rather sensational: With its German system and completely different tone color, the Viennese clarinet had up to then been considered irreconcilable with the internationally used Böhm clarinets, yet Pichler helped to dispel this prejudice.
Inspired by his work with great maestros and mindful of Sinopoli's vote of confidence, Pierre Pichler studied the craft of conducting in masterclasses with Prof. Uros Lajovic, student of the legendary Hans Swarowsky, as well as with the renowned conducting pedagogue Jorma Panula. From 2016 to 2019, Pierre Pichler worked as musical assistant to Philippe Jordan, who demonstrated his confidence in him by entrusting him with conducting rehearsals of the Wiener Symphoniker (Vienna Symphony Orchestra). Then came corona and later the Russia crisis, which brought to an end his close collaboration with the politically divisive yet undoubtedly great
conductor Valery Gergiev.
In recent years he has been increasingly active as a conductor, directing, for example, a new production of Mozart's opera The Magic Flute and The Marriage of Figaro at the Tirana Opera. He conducted the gala concert for Mozart's birthday at the Estates Theatre in Prague with the orchestra of the Prague National Theatre. In the 2021–2022 season, Pierre Pichler was invited to conduct numerous concerts in Canada, Czechia, German and Japan. Recently his collaboration with members of the Berlin Philharmonic has intensified, including with solo clarinetist Wenzel Fuchs and horn player Andrej Zust, whom he accompanied in several concerts with different orchestras playing Richard Strauss's First Horn Concerto.
Pichler has a broad range of interests. He promotes contemporary composers, whose works he incorporates into his repertoire. He also ardently supports young listeners, believing that youth should be gently introduced to classical music, which is slowly disappearing from today's educational system. It was for this reason that he created a concert series for children in 2021 with the orchestra he founded, Musica Iuvenum Wien, tailored to the needs and capabilities of young listeners between four and twelve years of age. These children's concerts include Sergei Prokofiev's Peter and the Wolf and the lives of W. A. Mozart, Ludwig van Beethoven, Franz Schubert, Johannes Brahms and Gustav Mahler, incorporated into a story moderated by the conductor.
Pierre Pichler is a highly versatile concert and opera conductor. His repertoire is broad, encompassing works of the Viennese Classical and Romantic eras, music of the Strauss dynasty, the Second Viennese School, through to contemporary music.
Text: Rupert Schöttle