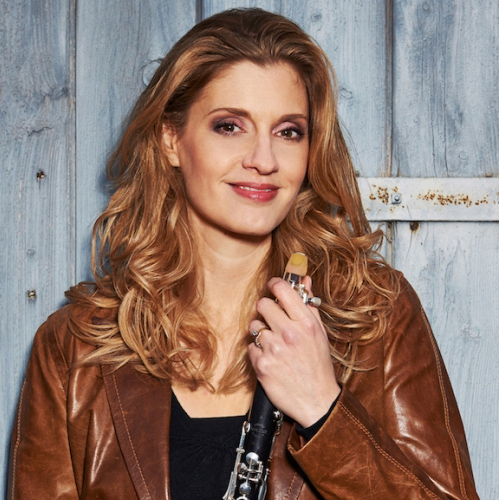 German clarinettist Nicola Jürgensen studied with Hans Deinzer and Sabine Meyer. From an early date her success in national and international music competitions brought her name to the attention of a wider audience.
Among her awards are the Mozart Prize awarded by the Wiesbaden Mozart Society and the German Music Competition Soloists`Prize in 1999. Three years later she was awarded a scholarship by German Radio, including concerts at the Bremen Music Festival.
Nicola Jürgensen has been principal clarinet with the Western German Radio Symphony Orchestra (WDR) in Cologne since 2001, successfully combining her orchestral duties with her career as a soloist.
As the latter she has appeared with the German Symphony Orchestra of Berlin (DSO), the Beethoven Orchestra Bonn, the German Chamber Philharmonic of Bremen, the Hamburg Symphony Orchestra, the Radio Orchestras of Berlin and Leipzig (MDR) and the State Theatre orchestras of Braunschweig, Freiburg, Kassel, Rostock and Saarbrücken.
She also performed as a soloist with the Chamber Orchestras of Poland, Basel and Vienna as well as the Ensemble Resonanz in Hamburg, the Munich Chamber Orchestra (MKO) and Chamber Orchestra Carl Philipp Emanuel Bach in Berlin.
Among the conductors with whom she has worked are Stefan Blunier, Roy Goodman, Hartmut Haenchen, Christopher Hogwood, Carlos Kalmar, Fabio Luisi, Andrea Marcon, Peter Rundel and Peter Ruzicka.
Nicola Jürgensen is also very fond of performing chamber music.
On invitation of the Artemis Quartet, she has played Karl Amadeus Hartmann`s Chamber Concerto for clarinet and string quartet.
Other musicians whom she has appeared with in recitals include the Minguet Quartet and the Trio Jean Paul.
In 2008 she played the part of "Eva" in a production of Karlheinz Stockhausens`s opera "Michael`s Journey Around The Earth" by Carlus Padrissa and La Fura dels Baus.
The production was seen at Vienna Festival, the Venice Biennale, the Warsaw Autumn Festival, the Festival d`Automne Paris and elsewhere.
Among other international festivals Nicola Jürgensen has appeared in are the Rheingau Music Festival and the chamber music festivals of Risör (Norway) and Lockenhaus (Austria).
A high point of the season 2011/12 was the performance of Johann Wilhelm Wilms` long-lost clarinet concerto with the WDR Symphony Orchestra and Reinhard Goebel.
On her debut CD "Dans La Nuit" released with ORFEO in april 2012, she is presenting self-arranged french chamber music and songs together with her long-term pianist Matthias Kirschnereit.
In 2013 she performed as a soloist with the Konzerthausorchester Berlin as well as bringing Giya Kantcheli`s "Night Prayers" on stage with the WDR Symphony Orchestra.
The season also included her debuts at Lincoln Center Festival New York, Wuhan Festival (China) and Auckland Philharmonia Orchestra, New Zealand.
2014 and 2015 brought her to Bangkok, where together with collaborators from Thailand and the German Goethe Institute, Nicola Jürgensen established the "German Masters Music Festival", a series of concerts and masterclasses.
She also returned to Wuhan Festival, China, performing both Mozart and Weber concertos with the Wuhan Philharmonic Orchestra.
Nicola Jürgensen has given numerous international masterclasses.
In 2016, she will be teaching at the "Young Musicians`Foundation" Bayreuth as well as at the "Gustav Mahler Academy Bolzano".
She will also be holding a masterclass at the "Dresden International Music Masterclasses".
Nicola Jürgensen
Nicola Jürgensen | Wilhelm Wilms Clarinet Concert | WDR