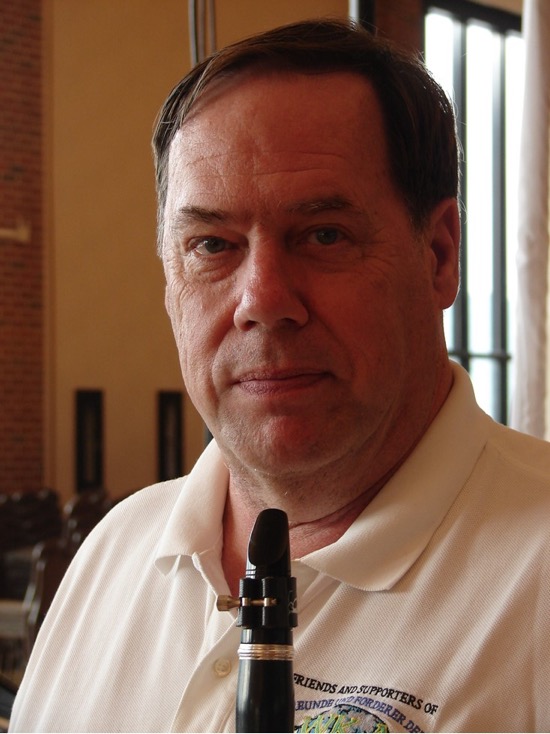 has a distinguished musical career spanning over four decades.  He is the founder and director of the World Clarinet Alliance (WKA), an international fraternal and educational organization.  The WKA encourages clarinetists worldwide to interact through performances, intellectual discourse, cultural exchange, and participation in WKA events.
Mr. Getzin earned a Bachelor of Science in Music Education from the State University of New York at Fredonia and his Master of Music degree in clarinet performance at the Manhattan School of Music. Post Graduate studies were taken towards a DMA in Clarinet Performance at Catholic University in Washington, DC.  His principal teachers were Allen Sigel, Edward Yadzinky, William Willett, James Pyne, Peter Simenauer, and Leon Russianoff.  He credits his longtime mentors, Stanley Drucker and Karl Leister, as the primary influences on his musical career and philosophy.  Throughout his career, Mr. Getzin has established and maintained close relationships with many clarinetists and musicians of international stature, including Stanley Drucker,  Karl Leister, Sabine and Wolfgang Meyer, Eddie Daniels, Buddy DeFranco, Ricardo Morales, Herbert Gruber, Giora Feidman, and Sir Neville Marriner.  
As a performer, Mr. Getzin has been a member of the United States Military Academy Band at West Point, New York, the United States Army Band "Pershing's Own", at Fort Myer, Virginia, and the United States Army/Europe Band in Heidelberg, Germany.  As director of the Lydian Chamber Players (1971-1983), he performed at many venues in New York City, including Lincoln Center, Columbia University, and the New York Historical Society. In Washington, D.C., he has performed at the Corcoran Gallery, the Renwick Gallery, the White House, and at the Phillips Collection for a nationwide broadcast on WETA. Many taped and live performances took place over WQXR, WNYC, WGMS.
As a professional musician, he has toured and performed extensively throughout the United States and Europe. From 1972-1983, Mr. Getzin was responsible for creating a vast sound recording archive of solo performances by the eminent solo clarinetist of the New York Philharmonic, Stanley Drucker.  During those years, Getzin produced hundreds of sound recordings whenever Drucker was performing outside of the New York Philharmonic.  Additionally, Mr. Getzin served as sound recordist for the International Clarinet Congress (1978-1983).
In 1980, Mr Getzin, along with many prominent Clarinetists, organized in conjunction with Catholic University, the Klar/Fest 81 (American Clarinet Festival), featuring the finest Clarinetists including Stanley Drucker, Karl Leister, and several others, who performed over that 5 day period consistent Lincoln Center Class performances to a saturate level for participants.  Involvement of the Washington Service Bands including the US Marine Band and the USAF Band participated on campus, and soloists Druckers and Allen Sigel performed at the Jefferson Memorial in addition after the festival finished. During this whole period, Mr Getzin was a member of The US Army Band (Pershing's Own). Getzin has been noted as the 'father of the Klar/Fest', which brought major changes of festival organization and total program concepts. Currently, his activities as director of the WKA include administrating the organization, planning and promotion of programs, website design and management, artistic liaison, and establishing musical links and outreach programs for the benefit of the emergent membership.  With his involvement with the WKA, Michael Getzin continues to be a musical visionary, promoting unique performances, educational opportunities, and fraternalism through musical culture worldwide. Many unknown quality festivals and activities have been made known through the WKA website indicating the benefits for those who pursue excellence in their work to upgrade the entire Clarinet world.